Jesus is preaching and healing in Gentile cities, areas that are contemptible to the Jews. He has already offered the Gospel to Israel, and now he is bringing his glorious Good News to those "outside" the Chosen People. All nations are invited into the way of salvation.
In the cure of the deaf man described in today's Gospel, we see first that the people "begged him" to lay his hand upon the man and cure him, a kind of prayer of petition. Jesus takes the man aside, away from the multitude, and Mark is very specific about what happens when they are in private: "he put his fingers into his ears, and he spat and touched his tongue, and looking up to heaven, he sighed, and said to him, 'Ephphatha,' that is, 'Be opened.'"
Again we see that Jesus preaches to the multitude, but he heals people one on one: he speaks to them, touches them, even puts his fingers into their ears and mouth. In another story, he mixes his own saliva with dirt and puts mud in a blind man's eyes! These events illustrate Jesus' "incarnational" presence to us. He – the invisible God – became flesh, and he respects the nature he has given us and uses material things to accomplish spiritual purposes as an affirmation of our bodiliness.
How does this apply today? Jesus' healing still comes to us through words and matter in the sacraments. We sometimes inadvertently reduce the sacraments to "rites of passage" marking our maturing in the Church. They are that, but we miss the essential point when we stop short of seeing that sacraments are Christ's way of remaining with us throughout time. Through the person of the minister, Jesus is present to us; he speaks to us, touches us, heals us, and calls us into a relationship.
And the sacraments are administered to us one on one. The deacon or priest doesn't fling water from the baptismal font and hope it hits the right person! We assent to Baptism, and then it is administered to us BY NAME: "I baptize you, Kathryn Therese, in the name of the Father, and of the Son, and of the Holy Spirit." When we come forward for Communion, there isn't a basket of bread there and we grab a hunk. We come forward as individuals in need of the nourishment of the Bread of Life; we must personally assent to this Truth by our "Amen," and then it is given, not taken – we "receive" Holy Communion. There is no rite of "Confirmation en masse"; the bishop anoints each individual by name. We confess our sins individually to the priest, and we are personally absolved of them.
When we see Jesus' healings in the Gospel, we should not see them as distant events. Rather, let us see them as illustrations of Jesus' presence to us, right here and right now in the sacraments of the Church, and give thanks.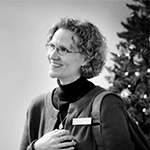 Kathryn is married to Robert, mother of seven, grandmother to two, and a lay Carmelite. She has worked as a teacher, headmistress, catechist, Pastoral Associate, and DRE, and also as a writer and voice talent for Holy Family Radio. Currently, she serves the Church as a writer and presenter, and by collaborating with the diocesan Office of Faith Formation, individual parishes, and Catholic ministries to lead others to encounter Christ and engage their faith. Learn more at www.kathryntherese.com or on Facebook @summapax.