I have always had a deep devotion to my confirmation saint, St. Joseph. We know very little about St. Joseph, but in today's readings, we hear some of the only written accounts of this great saint. It has just been announced that Mary shall bear a son.
"When his mother Mary was betrothed to Joseph,
but before they lived together,
she was found with child through the Holy Spirit.
Joseph her husband, since he was a righteous man,
yet unwilling to expose her to shame,
decided to divorce her quietly."
Many saints and scholars have commented on the fact that this verse does not necessarily mean that Joseph was going to divorce her because he believed she had been with another man. This is an understanding that some read into this text. But many have written about this idea that Joseph knew that Mary had conceived of the Holy Spirit and he did not feel worthy, after all, he was chosen to be the earthly father of Jesus, no small task.
To distance Mary from any shame and because he did not feel worthy, he decided to divorce her quietly. But God had different plans.
"Joseph, son of David,
do not be afraid to take Mary your wife into your home.
For it is through the Holy Spirit
that this child has been conceived in her.
She will bear a son and you are to name him Jesus,
because he will save his people from their sins."
And here we have Joseph's fiat, his yes to God. Though he must have felt unworthy, he was now betrothed to a sinless virgin who was carrying God in her womb; he trusted that God would provide him with strength.
A few days ago I reflected on humility. I think today's readings keep that discussion going beautifully. I think we often think of humility as something that is weak, we are made small and so we act small. I know I struggle with that sometimes. But here we have Joseph being given the grace to help our Savior through His earliest days. What amazing strength and courage it must have taken Joseph to say yes, a yes that could only come through the grace of God.
So again we see this utter reliance on God, our unworthiness made perfect in God, and from that came pure strength. If we keep in mind that everything begins and ends with God, then we should not be afraid to boast in the Lord. Humility is not hiding the great things God is doing in our lives, but it's bringing them to light so people can see that it is not just us and our strength, but it is God making us worthy and giving us grace.
Let us ask for the grace of continued humility and the strength to give our important yes to God. Amen!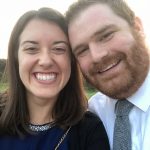 Tommy Shultz is a Solutions Evangelist for Diocesan. In that role, he is committed to coaching parishes and dioceses on authentic and effective Catholic communication. Tommy has a heart and a flair for inspiring people to live their faith every day. He has worked in various youth ministry, adult ministry, and diocesan roles. He has been a featured speaker at retreats and events across the country. His mission and drive have been especially inspired by St. John Paul II's teachings. Tommy is blessed to be able to learn from the numerous parishes he visits and pass that experience on in his presentations. Contact him at tshultz@diocesan.com.