Today would have been my grandmother's 85th birthday. She died 14 years ago when I was 10 but I still miss her fiercely every day.
The first reading comes from the closing verses of Hebrews and it reminded me a lot of her. The Hebrews and, in turn, we are told to "Do not neglect to do good and to share what you have; God is pleased by sacrifices of that kind". My grandmother was the most selfless person I know. She gave everything of herself: her time, her talent, her treasure. And all of that, even if it didn't go directly in the collection at Mass, went to serving God and showing His love and compassion to all those she encountered. That is exactly what the first reading is calling us to do–please God with our everyday sacrifices of love and charity.
The first reading also encourages us to follow our leaders: our priests, our religious brothers, and sisters, our deacons, our bishops, our cardinals, our pope. Our leaders' vocation is to lead the flock and to do so with joy. Our role is to actively seek out our leaders for guidance, for support, for counsel, and for instruction. By doing so, by putting our trust in our leaders to help guide us toward Heaven, we help them live out their own vocation.
The last two verses of the reading are a blessing to people in which the author refers to Christ as the Good Shepherd. Today's Gospel is the precursor to the multiplication of loaves; Christ shows that He is the Good Shepherd by providing the people spiritual food thereby satisfying their spiritual hunger before He satisfies their physical hunger. He responds to the needs of His flock with compassion and by having compassion for those who were "like sheep without a shepherd", Christ teaches us how to bring others into the faith and closer to him.
Let us go about this day, and all our days, serving Christ our King fearlessly for, "Even though I walk through the dark valley I fear no evil; for you are at my side."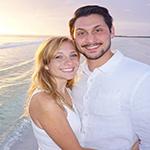 Dakota currently lives in Denver, CO is studying for her Master's in Spanish, and loves her job as an elementary school librarian. She is engaged to the love of her life, Ralph. In her spare time, she reads, goes to breweries, and watches baseball. Dakota's favorite saints are St. John Paul II (how could it not be?) and St. José Luis Sánchez del Río. She is passionate about her faith and considers herself blessed at any opportunity to share that faith with others. Check out more of her writing at https://dakotaleonard16.blogspot.com.