Today, the Church celebrates the feast of Our Lady of Lourdes, when in 1858, the Blessed Mother appeared to a 14-year-old girl in Lourdes, France. Now, over 160 years later, millions of people travel to the very place where Mary appeared seeking comfort and healing. It has also become a place for renewal of faith and conversion, which is a central part of Mary's ministry.
She appeared 18 times from February 11 to July 16, 1858 to St. Bernadette, a peasant girl who flunked her catechetics exam. Her message was simple; she sought to heal the sick by the Lord's Grace and remind us to pray for the conversion of sinners.
In today's gospel, we hear the story of the Wedding at Cana when Christ performs his first public miracle—turning water into wine after the Blessed Mothers direct intercession when she realizes that there is no wine—a staple of the ancient world. Mary notices that the wine is out and turns to her son for help. She recognizes a need among her children and acts.
Christ responds, "Quid tibi mihi?"— "Woman, how does your concern affect me? My hour has not yet come." These may seem like disrespectful words coming from Jesus, especially to his mother. But he is speaking to Mary, the New Eve, as the New Adam. In the gospel of John, when Jesus refers to his "hour", he is referring to Calvary. In essence, he is telling Mary, "Woman, if I do this, we are on the fast track to Calvary. Are you ready for that?"
Mary seeks the servants at the wedding, which can also be translated as slaves—the lowest of all the classes at the wedding. Then we hear the last words from the Blessed Mother recorded in Scripture. "Do whatever he tells you." It's a central theme in all of her apparitions—a call to conversion and to know Christ. And how beautiful is it that these are her final recorded words!
They speak perfectly to the role of Mary in our lives. She's not meant to be a distraction from our worship of Christ, she's meant to point us to him. She gives advice as a good mother does to ensure that her children are on the correct path.
She especially has the heart for what society may consider the lowliest of all—a small, sickly peasant girl in France and the servants at a wedding who have the blessed opportunity to know the wine came from God himself.
Her message at Lourdes and her final message in Scripture are challenging. They are meant to change hearts, but it is only the humble of hearts who can receive her words and act. How are you embracing the witness of Saint Bernadette and the servants at Cana? Turn to Mary and pray for her intercession, that you too may call upon the help of the Lord and "do whatever he tells you."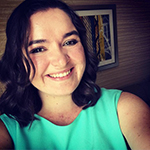 Hannah Crites is a native to Denver Colorado and graduate of Franciscan University of Steubenville. She has written for numerous publications and blogs including the Chastity Project, Washington Times, Faith & Culture: The Journal of the Augustine Institute, and Franciscan Magazine. She is currently working in content and digital marketing for a small web development and digital marketing agency. Connect with her through Twitter (@hannah_crites) and Facebook. Check out more of what she has written at https://hannhcrites.com/.