"Go into the whole world and proclaim the gospel to every creature."
Today is a big day. Not only is it Mothers day, but it is also the Ascension of our Lord into heaven. On a more personal note, it is the one year anniversary of asking Nathalie to marry me, a day that we dedicated to Mary.
I think it's perfect that all of these events fall on the same day. When I think of mother's day, I naturally think of my spiritual mother, Mary. The Gospel today speaks about going into the world and proclaiming the good news to every creature. Mary was the perfect model of this. She proclaimed to the world that Jesus was the Savior they had been waiting for. She was given a sign by the archangel Gabriel, and that sign became so real for Mary that she conceived and that sign became a person. A person who would save us from our sins.
In the Catholic Church, we call this phenomenon (when a sign is so real that it becomes what it signifies) an efficacious sign. This is what all the sacraments are. They are signs that are so real they become what they signify. (Ex. Bread and wine literally become the body, blood, soul, and divinity of Christ.)
Think of it this way. A stop sign is just a piece of metal with some paint. But it has the power to stop a car. It is a sign that is so strong that it effects a change.
This is why I think it is perfect that the Ascension, Mothers Day, and my one year anniversary with Nathalie all line up. There are no two people who I have ever met who show the love, strength, gentleness, power, beauty, grace, and generosity of Mary better than my Mom and my bride to be. They are such real signs to the world of the love of God, that they do not just preach the good news, they live it. It becomes part of them, real, tangible.
When I think of all the problems in our world having to do with marriage, families, and friendships, I am so thankful to have a Mom who has loved me unconditionally through everything. I can honestly say my best qualities are due to the fact that my Mom cares and has taught me so well.
When I think of all the problems with relationships, I am so thankful that I have found someone in Nathalie who compliments me perfectly. Someone who loves me no matter what. Someone who truly realizes the gift of her femininity and how much I need that as a man. Someone who serves tirelessly and gives of herself like I have never seen.
I am thankful to have people in my life who have taught me the good news through their real example. Sometimes it is hard to find these people in our lives because of the brokenness of the world, but no matter what our mother Mary can help us see the love that her Son has for us.
So please join me today in thanking Mary, who brought us the Savior, as well as all mothers. Thank you mothers! Thank you for being a much needed sign to the world of the beauty of God and the good news. Happy Mothers day, happy day of the Ascension, and Nathalie, Happy Anniversary!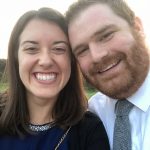 Tommy Shultz is a Solutions Evangelist for Diocesan. In that role, he is committed to coaching parishes and dioceses on authentic and effective Catholic communication. Tommy has a heart and a flair for inspiring people to live their faith every day. He has worked in various youth ministry, adult ministry, and diocesan roles. He has been a featured speaker at retreats and events across the country. His mission and drive have been especially inspired by St. John Paul II's teachings. Tommy is blessed to be able to learn from the numerous parishes he visits and pass that experience on in his presentations. Contact him at tshultz@diocesan.com.