If you're anything like me, you talk to God a lot, and most of that conversation has to do with something you want. I've always taken the adage to ask God for help to heart, often to the point of neglecting the rest—giving thanks, asking forgiveness, praying for others. "Keep me safe," I say every time I enter my car; whether or not I remember to say thank you when I get out is another thing altogether!
Today's Gospel reading gives us the promise: "Whatever you ask the Father in my name he will give you (…) ask and you will receive, so that your joy may be complete."
Perhaps we take Jesus' words a little too literally. We ask for a lot of things in Jesus' name. Safe passage. Good health. World peace. A marriage proposal. Willy-nilly we bring God heaps of requests of what we want. Prayer becomes another to-do list: I want this and that and the other… And somehow God still loves us through our childish self-centered way of reading scripture and applying it to our lives. Jesus said to ask, so we ask. And that's what we call prayer.
Don't get me wrong: I think that praying for things is important. In fact, I believe that what the Church needs now, more than anything else, is prayer.
The problem comes when we start defining prayer according to our narrow perceptions and understanding. Praying is what we do, what we say, what we think. It can be scheduled, discussed, planned. And yet our tradition is rich with the shining thread of centuries of understanding prayer as more than simply words. The Catholic Church has, in fact, always maintained a good balance between spirit and form, between how one does things and the reason one does them. Form without spirit is mindless repetition. Spirit without form is undisciplined and self-focused.
That balance is a life of prayer.
What happens, of course, is we say, "I need to spend more time praying." Or we might lament, "I ought to pray more often." We don't need to pray more often. We don't need to pray for longer periods of time. What we need is a life of prayer, something that allows for that balance between form and spirit, something that is permeated, shot through, with God's grace and love. Prayer needs to be a life, not an activity.
What does a life of prayer look like? Father Walter Burghardt, SJ, told the story of an old farmer who would stop at a chapel on his way home from the fields. Knowing that the man just sat in the chapel apparently doing nothing, a neighbor asked him, "What goes on when you sit there?" The old man smiled and said, "I look at the good God, and the good God looks at me."
That experience is consistent with living a life of prayer. The Catechism of the Catholic Church informs us that prayer is "the encounter of God's thirst with ours," and that's where all prayer comes from, that encounter, that completion we feel when we are in our Father's presence. "We must remember God," said St. Gregory of Nazianzus, "more often than we draw breath."
So perhaps I'm not wrong in stepping into my car and asking God to keep me safe. I don't think about doing it; it's as automatic as is fastening my seatbelt. My life is permeated with God's presence and love, so my everyday actions are infused with an awareness of God as well. Spirit, that intangible presence, is the backdrop to every other act of prayer.
It doesn't mean that we shouldn't experience prayerful moments, participate in the liturgy, or rediscover the Rosary. Form is the other part of our Church's balanced life. "Ask," says Jesus, "so that your joy will be complete." Asking puts us directly in the presence of God, and that presence is what gives us an unsurpassable joy.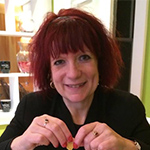 Jeannette de Beauvoir works in the digital department of Pauline Books & Media as marketing copywriter and editor. A graduate of Yale Divinity School, where she studied with Adian Kavanagh, OSB, she is particularly interested in liturgics and Church history.