I have always struggled with humility. I think it is because I am such a positive person and for a long time I saw humility as putting ourselves down; we are just measly worms who can do nothing right. I have come to realize through reflection, prayer, and the readings of the saints, that true humility is not about our unworthiness as much as it is about our utter dependence. A mathematician can expound on the smartest equations known to man, and he/she is worthy of doing so, but he/she is dependant on the theories that have come before.
In today's first reading St. Paul's words hit hard. "I could not talk to you as spiritual people, but as fleshly people, as infants in Christ. I fed you milk, not solid food, because you were unable to take it." Immediately my mind goes positive about my worth, "Hey, I am not just a child. I can handle the truth. I went to Franciscan for Theology so, I know my stuff."
Then reality sets in and I realize that I have complete dependence on my Lord and God. Every movement, every breath, every second of study, is due to God keeping me in existence, holding me in His arms, keeping me in His heart. I am dependent on the God who gave me my worth. As human beings, we are made with the utmost dignity and deserve respect, but we also need to realize that in relation to God and the entire cosmos we are just a speck of paint in the beautiful painting that we know as humanity.
God does not need us, but He sure wants us. He has given us dignity, talents, a heart capable of true charity, and an immortal soul all of which need to be exercised as the gifts they are. Our worth is vast, our dependence total.
This point is hit home by Jesus in today's Gospel as he performs miracles. We need signs as human beings don't we? We like proof that God is who He says He is.
We should be able to look at how incredibly we have been created and learn of the goodness of God, but often we don't. We should be able to admit our reliance on God, but often we want to prove our worth by neglecting the one who created it. Our worth and reliance should be apparent, but we need help to see.
Jesus performs these signs to help us, to love us, but they should also show us that He is in control. This is true humility, seeing our infinite worth, and our complete reliance. Let us pray for the gift of humility and thank God for creating us in His image and likeness. Amen!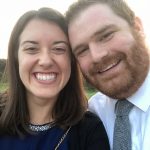 Tommy Shultz is a Solutions Evangelist for Diocesan. In that role, he is committed to coaching parishes and dioceses on authentic and effective Catholic communication. Tommy has a heart and a flair for inspiring people to live their faith every day. He has worked in various youth ministry, adult ministry, and diocesan roles. He has been a featured speaker at retreats and events across the country. His mission and drive have been especially inspired by St. John Paul II's teachings. Tommy is blessed to be able to learn from the numerous parishes he visits and pass that experience on in his presentations. Contact him at tshultz@diocesan.com.