I've struggled to reflect on today's readings without oversharing. So this is your fair warning, this post is not "Facebook" photo ready. It is about the day to day struggle to live a life of faith. I share this with my husband's blessing.
My husband's job was "downsized" and my second job was restructured. The result is that within just a few months, we went from three salaries to living on one Catholic School teacher salary. Financial insecurity is part of our lives right now.
We know we are in a better position than so many and are grateful for every gift we have, but nonetheless, there is no denying we have entered a lean time. At an age when we thought we would be gliding towards retirement, we are plodding along, paycheck to paycheck.
It may not always be pretty, but there is so much for us to learn at this time. The readings have been speaking to my heart so directly lately. On Sunday, we heard about Elisha, literally burning up what he owned before following God's call to attend Elijah. In the Sunday Gospel reading, Jesus had several warnings that when we follow Him, we are to follow and not look back.
And then In today's readings, we have Lot's wife.
Looking back, bemoaning what was and what we wanted is a human tendency. Our plans, our dreams for the near future have gone up in smoke. I can kind of relate to Lot's wife, she had to look back just once. There is a pull that makes us want to just shut down and watch the smoke rise from our broken lives. In terms of our faith, this is the push where the rubber hits the road. We have choices. We have to decide either to follow where God leads or look back to what we had planned. (A dear friend is fond of reminding me, man proposes, God disposes). We are so fortunate. Like Lot who fled to Zoar, we have a refuge. Now, it is up to us, we can take shelter and praise God for what is or like Lot's wife, we can turn back to focus on what was.
That Lot's wife was turned into a pillar of salt when she looked back is more food for thought. We think of salt as a seasoning, but in times prior to refrigeration, salt was primarily a preservative. In turning back from God's directions, her choice was literally preserved in salt. Her choice is preserved as a memorial to the fact that we can't have it both ways. We can't follow God and hold on to the ways of the world.
In Matthew 5:13, Jesus says, "You are the salt of the earth." That's our calling! We are not to be a pillar of salt but to go out and salt the world with God's love. How will it be known if we love God? "I give you a new commandment: love one another. This is how all will know that you are my disciples if you have love for one another." (John 13:34-35).
St. Gregory of Nyssa, in a treatise on Christian Perfection, draws a relevant connection between our deeds, words, and thoughts. "Thoughts come first, then words, since our words express openly the interior conclusions of the mind. Finally, after thoughts and words, come actions, for our deeds carry out what the mind has conceived." In Lot's wife, we see this carried to the extreme. We may not know her words, but we 'see' the thoughts of her heart in action as she ignores the angels' directions and turns back to what was. We see immediately the result as her thought is memorialized in the pillar of salt.
If I want to live up to Jesus's call to be the salt of the earth, then even when my nature screams for financial security and a sense of control, I have to choose to trust Jesus completely. If I am going to be a disciple of Jesus, if I want to see him calm the sea and still the waves, then I cannot shrink back from the storm.
So, if life isn't quite as calm and peaceful as you'd like, if you are struggling to let go of what was or what you wanted, please know you are not alone. I get it! I understand that push and pull struggle between wanting my way and desiring desperately to be all in with Jesus. It's hard! Jesus is with you…and the Holy Spirit. It hasn't been that long since Pentecost when we celebrated because the Holy Spirit was sent to strengthen us. He is a real and present help in refocusing our thoughts which will be expressed in our words and lived in our deeds. Even when God feels far away and like life is just putting one step in front of the other on a journey we didn't choose, He's there. When the walk is hard, when we are in the lean times, when the path doesn't seem to make sense, we still get to choose whether to be the salt of the earth or to be a memorial in salt. We get to keep walking and as we walk, we follow the one who calms the sea and controls the wind. If we are going to radical followers of a radical God, we can't stay focused back towards what we thought we wanted, we need to orient our lives upward to God and then outward, through Him to others. So keep going! You are a beloved child of the One who rules the waves. You can do this. We can do this.
Today's Psalm sums it up, what we are to do when we hit rough terrain. When we just need to keep going with our heart focused on God:
"But I walk in integrity; redeem me and have mercy on me. My foot stands on level ground; in the assemblies, I will bless the Lord."
May God continue to bless you, wherever you are walking! We are praying for you!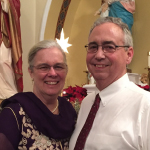 If you catch Sheryl sitting still, you are most likely to find her nose stuck in a book. It may be studying with her husband, Tom as he goes through Diaconate Formation, trying to stay one step ahead of her 5th and 6th-grade students at St Rose of Lima Catholic School or figuring out a new knitting or quilting pattern. Since every time she thinks she gets life all figured out, she realizes just how far she has to go, St. Rita of Cascia is her go-to Saint for intercession and help. Home includes Brea, a Bernese Mountain dog and Carlyn, a very, very goofy Golden Retriever.