I have been writing a lot about marriage in my posts recently, partly because I was recently married and the realities and beauties of marriage are fresh in my mind and experience, but also because marriage is the sign Saint Paul uses in Ephesians to explain the relationship between Christ and the Church.
This analogy can go both ways, in looking at a proper and holy marriage we see a sign for the relationship between Christ and the Church, and if we look at the relationship between Christ and the Church, Christ giving his body for his bride on the cross, we see an example of what a holy marriage should look like.
This sign, the cross, is what Satan will try to attack vehemently because it reminds him that he lost. Satan knew on Easter morning that Christ conquered sin and death, he literally rose above it. The only thing that Satan can do now is try to attack the sign of Jesus' love that he showed 2,000 years ago. But the cross was not just a sign of his love. It was not just a revelation of God's plan, but a realization of it as well. God's plan was revealed on the cross and made real on the cross, in the sense that redemption is now a reality in all of us.
So it is with the sacraments of the Catholic Church. When Christ ascended into heaven he sent the Holy Spirit to be with us through the seven sacraments. These sacraments are not just signs of God's love to his people but they also give grace. They not only reveal God's love but they make real God's love. They go beyond the sign to change reality itself.
Now think back to marriage. We hear in scripture that the two shall become one. This verse does not mean man and woman literally become one body, for they are still separate. If the husband dies, the woman remains. So they are not biologically one, or one in their being. But they are morally one, meaning that their thoughts, wills, and actions should form a oneness so they are no longer "me and you" but "we".
However, the primary end of that "we" relationship is where two bodies create one. This happens when a man and a woman become a mother and father. Their bodies unite in such a way that a new creation is made that is of both the man and the woman.
Why is any of this important to Easter? Well, on Good Friday we just experienced Jesus giving up his body for his bride the Church in such a real way that Christ becomes the father and the Church becomes the mother of a brand new creation, through baptism.
"Whoever is in Christ is a new creation. The old has passed away, behold the new has come." -2 Corinthians 5:17
What Christ did on the cross allows us to not only enter into a "we" relationship with Christ but to be born again through this relationship. His love is not just revealed, it is made real. It is revealed and realized through the sacraments. With this realization comes responsibility. Now we can no longer use our humanity as an excuse for sin. "Well, I am only human." It is precisely because you are human that sin should no longer hold sway in your heart because Christ has made you a new creation. So go praise the Lord this day. Thank him for his love. Take that love out to the world. Soak up the graces of the sacraments. Be a sign to the world of the love of Christ. That is exactly the sort of thing a human would do. A human who has been redeemed. From all of us here at Diocesan, God Bless!
"For we are an Easter people, and Alleluia is our song." -St. John Paul II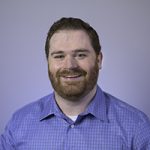 Tommy Shultz is a Solutions Evangelist for Diocesan. In that role, he is committed to coaching parishes and dioceses on authentic and effective Catholic communication. Tommy has a heart and a flair for inspiring people to live their faith every day. He has worked in various youth ministry, adult ministry, and diocesan roles. He has been a featured speaker at retreats and events across the country. His mission and drive have been especially inspired by St. John Paul II's teachings. Tommy is blessed to be able to learn from the numerous parishes he visits and pass that experience on in his presentations. Contact him at tshultz@diocesan.com.