The verse announcing the Gospel today is crystal clear: "I give you a new commandment; love one another as I have loved you". John 13:34
So why is it that I have said, "I hate you" to even my sisters, my spouse, my parents and so many others? Today's Gospel states this great commandment another way, "But I say to you, love your enemies and pray for those who persecute you, that you may be children of your heavenly Father, for he makes his sun rise on the bad and the good, and causes rain to fall on the just and the unjust."
Just sit with that for a bit. Go ahead. Read it again and close your eyes. Clear your mind to focus on what Jesus meant when he said, "love your enemies and pray for those who persecute you,… for he makes his sun rise on the bad and the good, and causes rain to fall on the just and unjust."
God created each and every one of us out of love, made in His image. This is a universal fact. It doesn't matter who my parents are, or what country I'm born in, rich or poor; I'm a member of the human race.
Each and every person has attributes both physical and emotional. We have physical and emotional needs to be met and nurtured. When a child is born a new creation comes into this world to be loved and cherished. When there is death, a light goes out and needs to be mourned. It does not matter if a child wasn't planned or not perfect. It doesn't matter if the person who died was your greatest antagonist or tormentor. That person was a child of God, just like you and me.
Jesus came into the world for the salvation of all, not just the ones that look like me, talk like me, or are born into my faith, or country. If they are persecuted and have no safe place to call home, do I care any less for them as a fellow human being? Where is my compassion and love for the refugee, asylum seeker, the person working 3 jobs struggling to make ends meet? Who loves the residual casualties in any violent conflict? How can we even think a person is 'residual'?
God commands us to "be perfect, just as your heavenly Father is perfect." Mt 5:48 This boggles my mind. I have to be vigilant to make sure that at all times I am striving for perfection. I must constantly being on guard against the evil one and his minions who are seeking to creep into my daily life at any moment, ready to pull me and trap me into little lies and deaths to the truth, the love of God.In the perfect 'Shalom,' or peace, of God's kingdom as he meant it to be (as in the garden of Eden before the fall) all can live in harmony: the lion lies down with the lamb, the family is together–not torn apart– as it enters into the garden.
We are created with so much potential to do and be good, to love all. Let's try to remember, "love one another as I have loved you." Pray it throughout this day, to remember our world needs this unconditional love poured out into each corner of the world.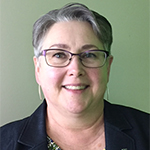 Beth Price is a Secular Franciscan (OFS) and spiritual director who has worked in several parish ministry roles during the last 20 years. She is a proud mother of 3 adult children. Beth currently works at Diocesan.