As I write, I am in the midst of difficulties on both sides of the family. Granted, I come from a large family and my husband's family has lived through many trials, but sometimes I want to throw up my hands and say "Why can't we just all get along?!" And then I begin my rant, "Why does so and so have to be that way? Why does he/she have to do that?!…"
When my soul is finally tranquil enough to refocus, I try to consider what their world might be like. What are they living through at this moment? What is the state of their mind and heart? Who has hurt them and how deeply? Am I judging them? Do I consider myself holier than thou?
And once again I realize that the only solace for suffering humanity is our loving God and His holy Word. Here is today's First Reading:
"The word of God is living and effective,
sharper than any two-edged sword,
penetrating even between soul and spirit,
joints and marrow,
and able to discern reflections and thoughts of the heart.
No creature is concealed from him,
but everything is naked and exposed to the eyes of him
to whom we must render an account.
Since we have a great high priest who has passed through the heavens,
Jesus, the Son of God,
let us hold fast to our confession.
For we do not have a high priest
who is unable to sympathize with our weaknesses,
but one who has similarly been tested in every way,
yet without sin.
So let us confidently approach the throne of grace
to receive mercy and to find grace for timely help."
Lord Jesus, YOU are what I need. You penetrate the soul and the spirit. You discern the thoughts of the heart. All that I am is openly exposed to you. You are able to sympathize with all of my predicaments. You have also been tested. So I approach you and beg for your mercy, grace and help.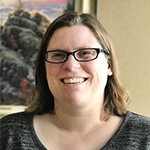 Tami grew up in Western Michigan, a middle child in a large Catholic family. Attending Catholic schools her whole life, she was an avid sportswoman, a (mostly) straight A student and a totally type A sister. She loves tackling home projects, keeping tabs on the family finances and finding unique ways to love. She spent early young adulthood as a missionary in Mexico, studying theology and philosophy, then worked and traveled extensively before finishing her Bachelor's Degree in Western Kentucky. Her favorite things to do are finding fun ways to keep her four boys occupied, quiet conversation with the hubby, and grocery shopping with a latte in her hand. She works at Diocesan, is a guest blogger on CatholicMom.com and BlessedIsShe.net, runs her own blog at https://togetherandalways.wordpress.com and has been doing Spanish translations on the side for the past 18 years.