There is a new system of organizing and decluttering that has people all abuzz. I will openly admit that I am not an expert in this area. There are parts of our home that could use a good decluttering. One of the foundational principles of this currently popular system is to cherish those things that bring you joy. You are supposed to hold something in your hands and ask yourself, "Does this bring me joy?" If the answer is "yes," you keep it. If the answer is "no," you pass it on (i.e., donate, sell, dispose of…) I had heard some positive responses and thought, "Maybe I could use this. I would welcome more joy."
Hold on a second, there is a fatal flaw in the very question being asked. I am supposed to hold an object, a thing, a part of creation and ask if it brings me joy.
Lent is about making room for the only true source of joy, God himself. Lent is about returning to God with our whole hearts, hearts decluttered and free from attachment to things, attitudes, behaviors which block God's grace.
In today's readings, both Joseph's brothers and the Pharisees have disordered ideas about finding joy. Joseph, the favored son of Jacob, is considered a killjoy by his brothers. They don't like his dreams, his favored status, and it's all wrapped up in his multi-colored coat so when they have the chance, they seize him. Having already determined he doesn't bring joy to them, they plot his murder. Eventually, they throw him in a cistern and sell him as a slave, relegating their brother to the status of an object to be bought, sold, and disposed of at will.
The Pharisees in today's Gospels are in much the same boat, although the things which they count on to bring them joy are not physical in nature. As the chief priests and elders of the people, they are used to having position and status in the community. They have no doubt that Jesus is comparing them to the tenants in the parable of the vineyard. Jesus knows that like the tenants in the parable, they will resort to murder to maintain their position, power and status rejecting the One who is capable of bringing all true joy. Jesus tells them straight out that "the Kingdom of God will be taken away from you and given to a people that will produce its fruit."
When we look for joy, a fruit of the Spirit (Galatians 5:22-23), in all the wrong places, we end up cluttering our lives with created things; objects or social constructs like position and status, which can't really bring joy anyway. When we accumulate this clutter, we end up valuing the created over the Creator.
As we approach the Third Week of Lent, it is in our human nature to have our resolve to our Lenten promises begin to waiver. Instead of being frustrated or abandoning them, let's look at them anew. How does my Lenten commitment help me to declutter my heart and mind? How are my small acts of penance helping me pave the way for Jesus to change my heart? If they aren't, now is the time to adjust. How am I disciplining myself through fasting and abstinence to let go of my wants and make room for real joy? How am I giving of myself so that others see through me to the One who wants to bring them joy too?
As you continue your Lenten journey, may the Holy Spirit continue to guide you in your spiritual decluttering so that your heart is ready to be filled with Easter joy.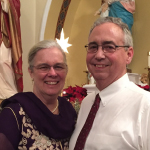 If you catch Sheryl sitting still, you are most likely to find her nose stuck in a book. It may be studying with her husband, Tom as he goes through Diaconate Formation, trying to stay one step ahead of her 5th and 6th-grade students at St Rose of Lima Catholic School or preparing for the teens she serves as Director of Youth Evangelization and Outreach in her parish collaborative. You can reach her through www.youthministrynacc.com.