Jesus often turns our human understanding on its head, as a reminder that God's ways are far from our ways, and that reality resides far below superficial appearances. Grownups must become like children, the wealthy and powerful are actually at a disadvantage, those who are poor and mourning are the true heirs to the Kingdom.
In today's Gospel, Jesus is drawing a distinction between humble beginnings and cosmic conclusions: seeds scattered grow quietly and in hiddenness, over the steady course of time, until the fruit is ready for harvest. Just as the seed grows slowly toward fruitfulness, so the kingdom Jesus came to establish will not come about immediately by dramatic revolutionary activity or throwing off the yoke of the Romans (see Dan 4:10-12 and Ezek 17:22-24 and 31:1-6 for Old Testament use of mighty trees as imagery for powerful kingdoms).
Patience is needed, and deep confidence in God's mysterious Plan; God's will is done even when (perhaps especially when) it is vigorously opposed and rejected by many. This serves to assure the persecuted Markan community that, despite the rejection and opposition they are experiencing, the seed sown in and through Jesus is, in fact, growing and mysteriously maturing toward the fullness of the Kingdom.
Have we assimilated this truth into the fabric of our own lives? Just as the Kingdom matures slowly and the grace that gives it growth remains invisible, the maturing grain also represents each person's growth in holiness. Do we trust that the mustard seed of faith, hope, and love planted in us at our baptism is truly growing toward fruitfulness? Do we become impatient with God's timing in our lives, over-eager to see ourselves become perfect, or our situations become ideal, or the people around us become what we think they should be? Have we learned the deep truth that God does His best work when we aren't looking, and His work in us almost always takes place far deeper than our consciousness can reach?
Jesus taught the disciples "as they were able to understand it." He teaches us the same way. So let us ask for the grace of understanding, of seeing things as God sees them so that we learn to be patient with His timing in the circumstances of our lives.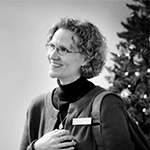 Kathryn Mulderink, MA, is married to Robert, Station Manager for Holy Family Radio. Together they have seven children (including Deacon Rob and seminarian Luke ;-), and two grandchildren. She is a Secular Discalced Carmelite and has published five books and many articles. Over the last 25 years, she has worked as a teacher, headmistress, catechist, Pastoral Associate, and DRE. Currently, she serves the Church as a writer and voice talent for Catholic Radio, by publishing and speaking, and by collaborating with the diocesan Office of Catechesis, various parishes, and other ministries to lead others to encounter Christ and engage their faith. Her website is https://www.kathryntherese.com/.