"Jesus departed to the mountain to pray, and he spent the night in prayer to God. When the day came, he called his disciples to himself, and from them, he chose Twelve, whom he also named Apostles…"
We make many decisions in our lives, almost on an hourly basis. Some are as simple as choosing what we want for lunch, and some as serious as whom we will marry, or how we will handle crises. It takes knowledge of ourselves to make decisions. It also, very often, takes a bit of help from someone else. For us, as Christians, that help should come, first and foremost, from Jesus. Therefore, it starts with prayer.
Jesus did just this. He was well into his ministry when he needed to choose the men who would carry on after his ascension, so he went to the mountain to pray. Connection with his Father is just what he needed before calling forth the Twelve. It also strengthened him for the task of caring for those who came to him for healing. The multitudes, the great crowds.
And what of the Twelve? Twelve simple, ordinary men who labored in various professions. For most, no formal education. For most, good men of Israel who just wanted to live a peaceful life with their families and friends. It was not to be. We look at these Twelve and wonder how, as often the Gospel tells us, Jesus could abide their dimwittedness and, at times, argumentative attitudes. From Peter's boastful brashness and weakness to Thomas' doubt or Judas Iscariot's betrayal, you have to wonder how the Church ever came to be. Just what did Jesus see in them? Apparently, quite a bit!
The same could be said of us. What does Jesus see in us? As often as we want to believe that we are not worthy of the work we are asked to do for him, Jesus sees into our hearts as no one else can. He sees the qualities needed, as he did with the Twelve if only we would also believe. We are ordinary men and women of faith who want to live peaceful, quiet lives with our families and friends. But – as with the Twelve – Jesus may be asking more of us. We, today, are the few good men and women the church needs. The "pew people" as I like to call us, are the strength and the conscience of the Church. We are needed, sometimes, more than we want to acknowledge.
Go first to prayer, as Jesus did. Garner the strength and grace needed to carry on the work of the Apostles. The Church will be better for it, and so will we, because Jesus will see past our sometimes dimwittedness, argumentative natures, sometimes weakness and doubt, and even, at times, betrayal to the graces offered. All will eventually be good in his eyes.
And lest we forget, God Bless the souls of the few good men and women first responders to the 9/11 terror attack, remembered today. Whether they were people of faith or not, Jesus gave them the strength to answer the call to duty, even to the loss of their own lives. Can any of us do less in less grave circumstances?
God Bless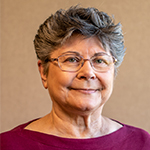 Jeanne Penoyar, an Accounts Manager here at Diocesan, is currently a Lector at St. Anthony of Padua parish in Grand Rapids, MI. While at St. Thomas the Apostle, Grand Rapids, Jeanne was a Lector, Cantor, Coordinator of Special Liturgies, Coordinator of lectors and, at one time, chair of the Liturgy Commission. In a past life, secretary/bookkeeper at the Basilica of St. Adalbert where she ran the RCIA program for the Steepletown parishes. And she loves to write! When relaxing, she likes reading and word puzzles. You can contact her at jpenoyar@diocesan.com.