In college I had the great blessing of taking a course on the Old Testament with renowned Biblical scholar Dr. John Bergsma. What I learned in that class fundamentally changed my life, especially the way I look at and pray with Scripture. Something I have carried with me from that class is the appreciation for how intentional Holy Mother Church is with her liturgical reading choices. For example, today's feast is one of the few times when Song of Songs is read at Mass. There is a reason for that.
During that class, I developed a love for, and almost girl-crush on St. Mary Magdalene, whose feast we celebrate today. I will never forget how Dr. Bergsma led us through this passage from Song of Songs, and pointed out every parallel it carries to our Gospel reading today. The first time I read it through that lens, I got chills! Honestly, I still do.
On that first Holy Saturday, Mary Magdalene, in real time, experienced the dream sequence of Song of Songs from today's first reading. We can parallel the two accounts verse for verse. The bride goes out at night in desperation to search for her loved one, just as Mary Magdalene headed to the tomb "while it was still dark" to find her Lord. Once there, Mary ran into the angels. Angels are often referred to as the "watchers of heaven." In Song of Songs, as she looks for her beloved, the bride comes upon watchmen making their rounds around the city. She asks them if they have seen Him whom her heart loves. Mary Magdalene's interaction with the angels, the "watchmen of heaven", is almost identical. She tells them "they have taken my Lord, and I don't know where they laid him." The word she uses here for "Lord" is "kyrios," which is oftentimes a term used by a woman referring to her husband. Obviously, we know that Mary Magdalene was not married to Jesus. However, this symbolizes that she is yearning for the one and only Bridegroom of her heart. In both Song of Songs and John 20, almost immediately after this interaction with the watchmen does the woman find her beloved.
Mary Magdalene is a type of all of us. The level of intimacy that she has with our Lord is the same intimacy that we are called to. Throughout the Gospels, we see Mary Magdalene clinging to Christ from the moment of her conversion; she cries at His feet, perfuming them with sacred perfumes and drying them with her hair, and clutches His risen body. She is wholly and freely intimate with Christ as man and God, and she holds nothing back from Him. Furthermore, Mary discovers in the Risen Christ the bridegroom of her Soul. Christ has come to be the Bridegroom of our souls. He gives Himself totally to us, as a Bridegroom does for His bride. A God who in Himself lacks nothing, desires our hearts.
Like I said before, today's readings are a perfect example of how divinely intentional Holy Mother Church is in choosing and pairing readings for Mass. Our Psalm today perfectly captures the emotions of both the bride and Mary Magdalene as they seek their Bridegroom. "O God, you are my God whom I seek, for you my flesh pines and my soul thirsts." Those words echo almost exactly the words of the bride in the Song of Songs dream sequence, and they reflect the deepest desires of our hearts as well. We were created for communion with our Creator. Whether we have recognized it or not, we have all had or will have the same experience of finding Him for whom we were made. Until then, nothing else satisfies our thirst.
So now, instead of just having a girl-crush on Mary Magdalene, I want to be like Mary Magdalene. I desire to experience that level of intimacy with my Lord. I want to leave behind my old life of sin in pursuit of a Divine Love. I want to run to Him with reckless abandon WITHOUT looking back on what I am leaving behind. I want to live my life in total anticipation of my Bridegroom, the only one for whom my soul thirsts.
(P.S. The Apostle John paints Jesus with incredible Bridegroom imagery throughout his narrative. There are many more parallels between the Bridegroom of Song of Songs and Christ at His Passion and Resurrection that would take many more blog posts to unravel, but I encourage you to look into it and pray with it for yourself! A good place to start is with Dr. John Bergsma's lectures that can be found on YouTube.)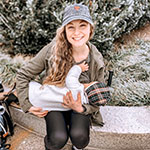 Sarah Rose hails from Long Island and graduated from Franciscan University in 2016 with a Bachelor's in Theology & Catechetics. She is happily married to her college sweetheart John Paul. They welcomed their first child, Judah Zion, in 2019. She is passionate about her big V-vocation: motherhood, and her little v-vocation: bringing people to encounter Christ through the true, the good, and the beautiful. She loves fictional novels, true crime podcasts/documentaries, the saints (especially Blessed Chiara Luce Badano), & sharing conversation over a good cup of coffee. She is currently the Coordinator of Young Adult Ministry at St. Cecilia Church in Oakley, Cincinnati. You can find out more about her ministry here: https://eastsidefaith.org/young-adult OR at https://www.facebook.com/stceciliayam.